Justin Drew Bieber(pronounced /ˈbiːbɚ/ bee-bər, born March 1, 1994) is a Canadian pop/R&B singer, songwriter and actor. Bieber was discovered in 2008 by Scooter Braun, who happened to come across Bieber's videos on YouTube and later became his manager.
Justin Bieber: Never Say Never is a 2011 3-D documentary/concert film centering on singer Justin Bieber. It was released in the United States and Canada on February 11, 2011.
The film follows the pop star Justin Bieber during 10 days counting down to what is considered his most prestigious performance, that of August 31, 2010 in Madison Square Garden, sold out in 22 minutes. It shows footage of the performances during this period from his My World Tour.
It shows excited female fans (mostly young), and several instances of the One Less Lonely Girl routine of inviting a girl on stage to be the object of his affection, and of surprising random girls with free tickets to his concerts. The main people around Bieber, being like family and good friends to him, are interviewed, but Bieber himself is not. Various instances of praying together before a show are shown.
The film also includes a visit Bieber made to his original home town while being in Canada for the tour. He is scolded for having damaged his voice while he had fun with his old friends. Reluctantly he accepts the postponement of the Syracuse performance. He is not allowed to speak for some days, and thus recovers enough to do the next performance, at MSG.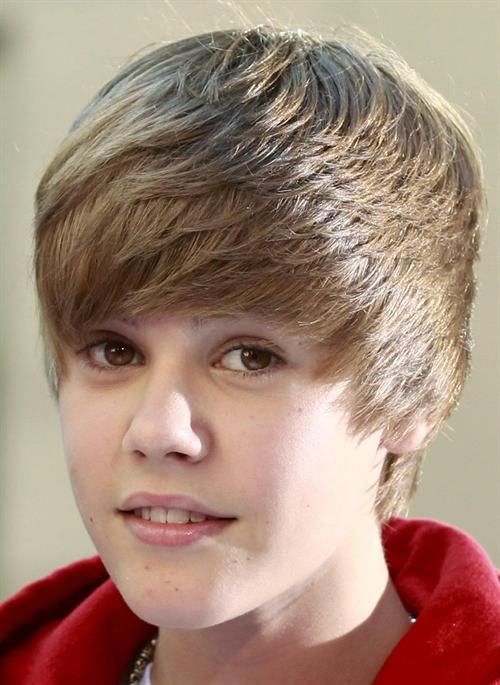 Also included are some of the story and old videos of Bieber's childhood. He was raised by his mother, but he had also a very special bond with her father, his grandfather. The latter still gets emotional about the time that Bieber and his mother moved to Atlanta.
"Never Say Never" is a song by Canadian recording artist Justin Bieber. The song serves as the theme song for The Karate Kid (2010), and features rap interludes from the film's star, Jaden Smith.
It topped the Friday box office by an estimated grossing of $12.4 million on its opening day from 3,105 theaters.Never Say Never is said to have exceeded industry expectations, nearly matching the $31.1 million grossed by Miley Cyrus's 2008 3-D concert film, Hannah Montana & Miley Cyrus: Best of Both Worlds Concert, which holds the record for the top debut for a music-documentary. Furthermore it grossed higher first weekend totals than the 2009 concert film, Michael Jackson's This Is It, and at least two-times more than fellow teen act Jonas Brothers' 2009 3D concert film, Jonas Brothers: The 3D Concert Experience, which it made more in two days than the Jonas Brothers concert did in its entire run.