Wow! Helen Mirren still has a great body at the age of 66! And her body is still competitive! Imagine, she beat out the likes of Elle Macpherson, Jennifer Lopez, and Pippa Middleton for the "Body of the Year" title by the L.A. Fitness gym chain.
The survey conducted among 2,000 respondents yielded 18% of the votes in favor of Helen. Elle only got about 10 percent of the votes. The body-beautiful J.Lo on the other hand got 6.6 percent and Pippa just gathered 4 percent. All of them have shapely and beautiful bodies.
At age 66, Helen Mirren has come in at No. 1 on an LA Fitness poll of 2000 men and women for (female celeb) Body of the Year. Those 2008 photos of the Oscar-winner
Helen Mirren and David Beckham are L.A. Gym's "Body of the Year" awardees.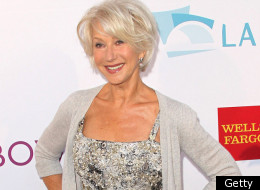 L.A. Fitness gym chain launched a poll which revealed that more than 2,000 people believe that Helen looks better than Elle MacPherson or Jennifer Lopez who placed the second and the third respectively.
Dame Helen Mirren's implausibly similar wax body was divulged at Madame Tussauds in London
And there's also the "Body of the Year" in the men's division where sporty David Beckham got the top spot! He got 21 percent of the votes. Running close behind him is Daniel Craig with 15.75 percent and Johnny Depp with 10.25 percent.