George Timothy Clooney (born May 6, 1961) is an American actor, film director, producer, and screenwriter. For his work as an actor, he has received two Golden Globe Awards and an Academy Award. Clooney is also noted for his social activism and has served as one of the United Nations Messengers of Peace since January 31, 2008.
Though he made his acting debut on television in 1978, Clooney gained fame and recognition by portraying Dr. Douglas "Doug" Ross on the long-running medical drama ER from 1994 to 1999. While working on ER, he started attracting a variety of leading roles in films including Batman & Robin (1997) and Out of Sight (1998), where he first teamed with long-term collaborator Steven Soderbergh. In 2001, Clooney's fame widened with the release of his biggest commercial success, Ocean's Eleven, the first of a profitable film trilogy, that is a remake of the movie from 1960 with the members of The Rat Pack with Frank Sinatra as Danny Ocean. He made his directorial debut a year later with the 2002 biographical thriller Confessions of a Dangerous Mind and has since directed Good Night, and Good Luck (2005) and Leatherheads (2008). He won the 2006 Academy Award for Best Supporting Actor for his work in the Middle East thriller Syriana (2005).
Clooney's humanitarian work includes his advocacy of finding a resolution for the Darfur conflict, raising funds for the 2010 Haiti earthquake, 2004 Tsunami and 9/11 victims, and creating documentaries such as Sand and Sorrow to raise awareness about international crises.
Clooney achieved stardom when he played Dr. Doug Ross, alongside Anthony Edwards, Julianna Margulies, and Noah Wyle on the hit NBC drama ER from 1994 to 1999. After leaving the series in 1999, he made a cameo appearance in the 6th season and returned for a guest spot in the show's final season.
Clooney next co-starred with Ewan McGregor and Kevin Spacey in The Men Who Stare At Goats, which was directed by Heslov and released in November 2009. Also in November 2009, he voiced Mr. Fox in Wes Anderson's animated feature Fantastic Mr. Fox. The same year, Clooney starred in Up in the Air, which was initially given limited release, and then wide-released on December 25, 2009. For his performance in the film, which was directed by Jason Reitman, he was nominated for a Golden Globe, a Screen Actors Guild Award, BAFTA and an Academy Award.
On January 16, 2006, during his acceptance speech for the Golden Globe Award for Best Performance by an Actor in a Supporting Role for Syriana, Clooney paused to sarcastically thank disgraced lobbyist Jack Abramoff before adding, "Who would name their kid Jack with the word 'off' at the end of your last name? No wonder that guy is screwed up!"Clooney supported then-Senator Barack Obama's campaign in the 2008 presidential election.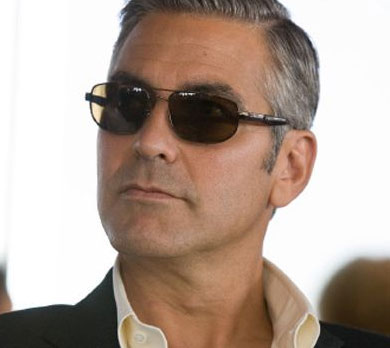 George Clooney Black SunGlasses
George Clooney Look so Handsome
George Clooney Pose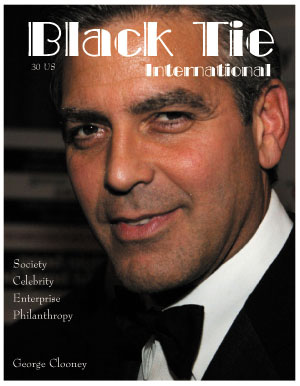 George Clooney on Cover Magazine