Calista Kay Flockhart (born November 11, 1964) is an American actress who is primarily recognized for her work in television. She is best known for playing the title character in the Fox comedy-drama series Ally McBeal for which she won a Golden Globe Award. She starred as Sally Field's character's daughter, Kitty Walker McCallister, on the ABC drama, Brothers & Sisters.
Flockhart was born in Freeport, Illinois, the daughter of Kay, a teacher of English, and Ronald Flockhart, an executive for Kraft Foods.Her parents are retired and live in Morristown, Tennessee. She has one older brother, Gary. Her mother, Kay Calista, reversed her own first and middle names in naming her Calista Kay. Calista also had a great-grandmother named "Calista".
Flockhart's acting ability was recognized when William Esper (Mason Gross' theatre director and Flockhart's acting teacher) made an exception to policy by allowing Flockhart to perform on the main stage. Though this venue is usually reserved for juniors and seniors, Harold Scott insisted that Flockhart perform there in his production of William Inge's Picnic. Flockhart graduated with a Bachelor of Fine Arts degree in theatre in 1988, as one of only a few students who successfully completed the course. She was inducted into the Rutgers Hall of Distinguished Alumni on May 3, 2003.
Flockhart debuted on Broadway in 1994, as Laura in The Glass Menagerie. Actress Julie Harris felt Flockhart should be hired without further auditions, claiming that she seemed ideal for the part. Flockhart received a Clarence Derwent Award for her performance. In 1995, Flockhart became acquainted with actors such as Dianne Wiest and Faye Dunaway when she appeared in the movie Drunks. Later that year, Flockhart starred in Jane Doe as a drug addict. In 1996, Flockhart appeared as the daughter of Dianne Wiest and Gene Hackman's characters in The Birdcage. Throughout that year, she continued to work on Broadway, playing the role of Natasha in Anton Chekhov's Three Sisters.
In 1997 Flockhart was requested to audition for the starring role in David E. Kelley's Fox television series, Ally McBeal. Kelley, having heard of Flockhart, wanted her to audition for the contract part. Though Flockhart at first hesitated due to the necessary commitment to the show in a negotiable contract, she was swayed by the script and traveled to Los Angeles to audition for the part, which she won. She earned a Golden Globe Award for the role in 1998. Flockhart also appeared on the June 29, 1998, cover of Time magazine, placed as the newest iteration in the evolution of feminism, relating to the ongoing debate about the role depicted by her character.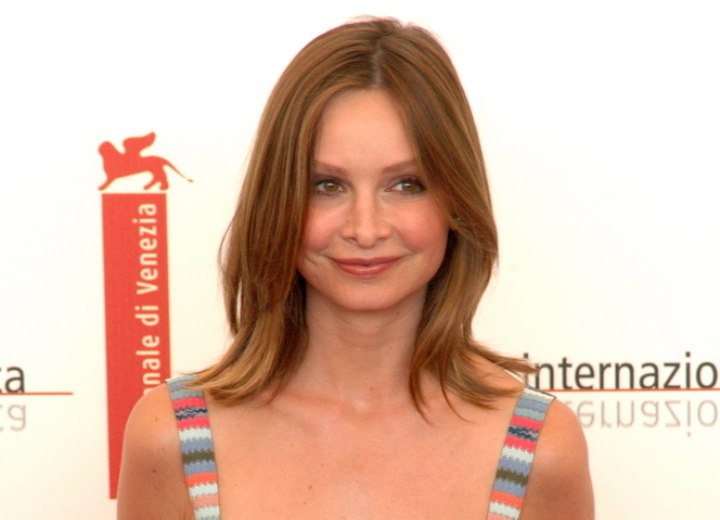 She was offered the role of Susan Mayer on Desperate Housewives, but declined. The role went to Teri Hatcher. Flockhart currently stars as Kitty Walker, opposite Sally Field, Rachel Griffiths and Matthew Rhys, in the ABC prime time series Brothers & Sisters, which premiered in September 2006 in the time slot after Desperate Housewives. Flockhart's character was significant throughout the series first four years, but it was announced her schedule of appearances will be reduced for the 2010–2011 season, coinciding with the departure of TV husband Rob Lowe. ABC announced in May 2011 that the show was going to be cancelled.
Flockhart played the role of Helena in A Midsummer Night's Dream, a 1999 film version of Shakespeare's play. In 2000, she appeared in Things You Can Tell Just by Looking at Her and Bash: Latter-Day Plays, later accompanying Eve Ensler to Kenya in order to protest violence against women, particularly female genital mutilation. Flockhart also starred in the Off-Broadway production of Ensler's The Vagina Monologues.
In March 2009 it was reported that Flockhart became engaged to Harrison Ford on Valentine's Day, after more than seven years together. On June 15, 2010, they were married in Santa Fe, New Mexico. The ceremony was presided over by Governor Bill Richardson and New Mexico Supreme Court Chief Justice Charles Daniels.