c
Christian Charles Philip Bale (born 30 January 1974) is an English actor. Best known for his roles in American films, Bale has starred in both big budget Hollywood films and the smaller projects from independent producers and art houses.
Bale first caught the public eye at the age of 13, when he was cast in the starring role of Steven Spielberg's Empire of the Sun. He played an English boy who is separated from his parents and subsequently finds himself lost in a Japanese internment camp during World War II. He is notable for his role as serial killer Patrick Bateman in American Psycho, and for portraying Bruce Wayne/Batman in Christopher Nolan's films Batman Begins and The Dark Knight.
n 1999, Bale played serial killer Patrick Bateman in American Psycho, director Mary Harron's adaptation of Bret Easton Ellis' controversial novel. Bale was briefly dropped from the project in favor of Leonardo DiCaprio, but DiCaprio eventually dropped out to star in The Beach, and Bale was cast once again. He researched his character by studying the novel and prepared himself physically for the role by spending months tanning and exercising in order to achieve the "Olympian physique" of the character as described in the original novel. He went so far as to distance himself from the cast and crew to maintain the darker side of Bateman's character. American Psycho premiered at the 2000 Sundance Film Festival to much controversy.
From 2002 to 2003, Bale starred in three feature films. Laurel Canyon (2002) was generally well received by critics. This film also marked the second time he worked with actress Kate Beckinsale, his costar in Prince of Jutland (1994). Critics generally focused on star Frances McDormand's performance over the rest of the cast, however.
Reign of Fire was Bale's first action vehicle and had, compared to all his previous work, an immense budget estimated at US$95,000,000. Bale entered into negotiations about starring in the film with reservations, but director Rob Bowman convinced him to take the lead role. Bale starred as Quinn Abercromby opposite Matthew McConaughey's Denton Van Zan. Bale and McConaughey trained for their respective roles by boxing and working out.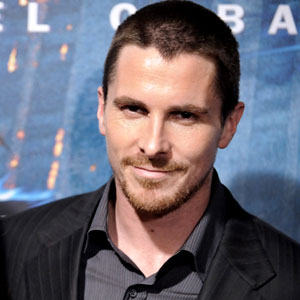 It was reported that Bale had previously auditioned for the role of Robin in Batman Forever (1995) and later Batman and Robin (1997), but lost out to Chris O'Donnell. However, this rumor was later dispelled by Bale himself in a magazine interview in 2008.[30] In 2004, after completing filming for The Machinist, Bale won the coveted role of Batman and his alter ego Bruce Wayne in Christopher Nolan's Batman Begins, a reboot of the Batman film series. Bale beat out Jake Gyllenhaal, the closest competition for the role.
Christian Bale Wallpaper
Christian Bale as Batman
In 2010, Bale played Dicky Eklund in the biopic The Fighter. He received critical acclaim for his role and won several awards, including the Academy Award for Best Supporting Actor, the Golden Globe Award for Best Supporting Actor and the Screen Actors Guild Award for Outstanding Performance by a Male Actor in a Supporting