Ra.One (Hindi: रा.वन) is an upcoming Hindi science-fiction superhero film directed by Anubhav Sinha. The film, which features Shahrukh Khan, Kareena Kapoor and Arjun Rampal, will be produced under Khan's production company, Red Chillies Entertainment. Originally scheduled to release on June 3 2011, the film was pushed back due to extensive post production work and is now set for release on October 26, 2011. Ra.One's first look was unveiled during the First Quarter Finals of the 2011 Cricket World Cup whilst the theatrical trailer was released three months later.
Cast
Shahrukh Khan as G.One
Kareena Kapoor
Arjun Rampal as Ra.One
Shahana Goswami
Satish Shah
Dalip Tahil
Tom Wu
Sanjay Dutt in a special appearance
Priyanka Chopra in a special appearance
Production
According to Khan, the film's title stands for "Random Access: Version One" as well as the mythological character Ravana. This film will reportedly have Shahrukh Khan performing his own stunts.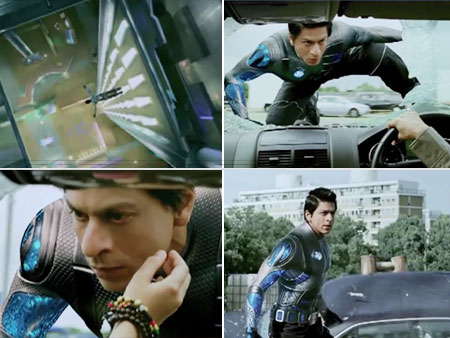 Filming
The shooting was originally supposed to begin in Miami, USA, but due to budget concerns this was scrapped. The first phase of filming began in India in March 2010 and continued till May 2010 in Mumbai's Film City and Goa. The crew then moved on to London in June 2010 where the filming with the entire cast took place during July–August. In an interview, Khan stated that the remaining portions would be completed in India and would require a further six months of post production.
Khan also requested his long-time collaborator and director Karan Johar to be present during shooting in London. While they were in London, media reports suggested Johar may have directed some romantic portions of the film; this was later denied by the director.
Ra. 1 (or Ra. One) is an upcoming Bollywood science-fiction superhero film directed by Anubhav Sinha and starring Shahrukh Khan and Kareena Kapoor. The film is made at a huge budget of INR 1 billion, which makes it one of the most costliest movie ever made in India. On 10 February 2010 Khan told on Friday Night with Jonathan Ross that Jackie Chan "has been asked for a role in the film, and hopefully the audience will see Jackie Chan in the film. The film is being produced under Shahrukh Khan's production company Red Chillies Entertainment.
Ra. 1 Story
The film is make keeping in mind the interest of kids and families. Shot in contemporary London Ra.one story is about a superhero who has an amazing ability to freeze electricity.
Casting
Kareena Kapoor plays the female lead alongside Shahrukh Khan in the film whilst Arjun Rampal will be seen as the villain. During an appearance on the chat show Friday Night with Jonathan Ross, Khan stated that Jackie Chan was "approached for a role in the film". Khan had reportedly sent Chan the detailed script of the film, along with the action sequences and a brief synopsis of his character; it was later confirmed that Chan would not be part of the project. In July 2010, Khan announced that Chinese-American actor Tom Wu would be part of the film.
After managing to look quite similar to former WWE Superstar Hulk Hogan in Hrithik Roshan's Agneepath, Sanjay Dutt once again has exposed his muscular body with many tattoos for SRK's upcoming movie Ra One.Sanjay Dutt will be seen doing tough action scenes along with Priyanka Chopra who also plays a cameo in the film.
Music
In September 2010, reports indicated that Khan had signed Hans Zimmer to compose the background score for the film; it was later dismissed as a rumor by the film's director. Music composers Vishal-Shekhar were signed on to work on the film's soundtrack along with Akon recording two songs for the film. The singer arrived in India on March 8, 2010 and recorded the songs. In May 2011, it was reported that Chammak Challo, one of the two songs sung by Akon, was leaked on the internet.